Razer Gold Gift Card – Games, entertainment, and lifestyle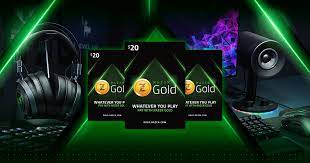 Introduction
In a world where digital entertainment has become an integral part of our lives, Razer Gold emerges as a dynamic and versatile gift card that opens up an exciting realm of gaming, entertainment, and lifestyle experiences. As one of the most popular digital payment platforms for gamers, Razer Gold offers a convenient and secure way to access a vast array of virtual content. In this article, we will explore the features, benefits, and diverse applications of the Razer Gold gift card, as well as the impact it has on gaming enthusiasts and digital consumers alike.
Understanding Razer Gold
1.1 What is Razer Gold?
Razer Gold is a virtual credit system offered by Razer, a leading global lifestyle brand for gamers. It acts as a unified virtual credit for various digital entertainment platforms, allowing users to purchase a variety of digital content such as games, in-game items, virtual goods, and more. Launched by Razer Inc., the gift card offers a seamless experience across multiple gaming platforms and digital service providers.
1.2 How does Razer Gold work?
When users purchase a Razer Gold gift card, they receive a unique code that can be redeemed on their Razer Gold accounts. Once the credit is added to the account, it becomes a universal virtual currency that can be utilized across a growing number of gaming and entertainment platforms.
The Versatility of Razer Gold
2.1 Gaming Galore
With Razer Gold, gamers gain access to a vast selection of online and mobile games, ranging from AAA titles to indie gems. By partnering with numerous game developers and publishers, Razer Gold ensures that players can enjoy an extensive gaming library that caters to diverse tastes and preferences.
2.2 In-Game Purchases
In addition to unlocking games, Razer Gold allows users to enhance their gaming experiences through in-game purchases. From exclusive skins and cosmetic items to power-ups and virtual currencies, players can use their Razer Gold credits to personalize their gaming avatars and gain a competitive edge.
2.3 Expanding Entertainment Choices
Razer Gold doesn't limit itself to just gaming. It also delves into the realm of entertainment, allowing users to explore and indulge in various digital entertainment platforms such as music streaming services, video-on-demand, and more.
The Advantages of Razer Gold
3.1 Convenience and Accessibility
One of the main attractions of Razer Gold is its ease of use. With the ability to purchase gift cards online or from physical retail stores, users can conveniently access a world of gaming and entertainment. Additionally, the universal nature of Razer Gold ensures that consumers can use the credits on multiple platforms without the hassle of managing separate accounts.
3.2 Secure Transactions
Razer Gold employs robust security measures, making it a safe option for digital transactions. The platform uses encryption protocols and advanced authentication methods, safeguarding user information and providing a secure environment for financial transactions.
3.3 Rewards and Loyalty Programs
Razer Gold often rewards its users with exclusive promotions, discounts, and special offers. Frequent users may also benefit from loyalty programs that grant them additional perks, making it a rewarding experience beyond the digital content they purchase.
Impact on Gaming and Digital Consumers
4.1 Fostering a Thriving Gaming Community
Razer Gold plays a significant role in promoting a vibrant gaming community by encouraging players to interact, compete, and socialize within the virtual realms of their favorite games.
4.2 Accessibility and Inclusivity
The accessibility of Razer Gold empowers gamers and digital enthusiasts from diverse backgrounds, making gaming and digital entertainment more inclusive than ever.
Conclusion
The Razer Gold gift card has transformed the landscape of digital entertainment, providing gamers and digital consumers with an all-in-one solution for their entertainment needs. From accessing a vast selection of games to exploring various entertainment platforms, Razer Gold continues to revolutionize the way we experience digital content. Its convenience, security, and versatility have made it a go-to option for those seeking an immersive and enjoyable digital experience. As we move forward in this increasingly digital age, Razer Gold's influence on the gaming and entertainment industry is bound to grow, shaping the way we entertain ourselves in the years to come.