How to Obtain VAXCERTPH Online: A Step-by-Step Guide to Vaccine Certificate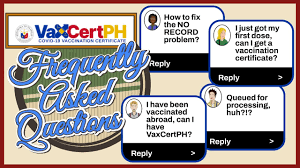 Introduction
As the world continues to combat the COVID-19 pandemic, vaccination has become a crucial tool in controlling the spread of the virus and resuming normalcy in our lives. Governments and health authorities worldwide have initiated vaccination drives, and vaccine certificates have become essential for various activities, including travel, attending events, and accessing certain establishments. In the Philippines, the Department of Health (DOH) introduced the VAXCERTPH system, an online platform to issue vaccine certificates. This article serves as a comprehensive step-by-step guide on how to obtain your VAXCERTPH online.
Understanding the VAXCERTPH System
The VAXCERTPH system is an online platform created by the Philippine government to issue digital certificates to individuals who have been vaccinated against COVID-19. These certificates serve as verifiable proof of vaccination and can be used for various purposes, including travel and entry to specific venues.
Eligibility Criteria
Before applying for a VAXCERTPH, ensure you meet the eligibility criteria. Generally, the requirements include being fully vaccinated, which means you have received all the recommended doses of the COVID-19 vaccine, as per the guidelines set by the DOH and the vaccine manufacturer.
Register on the VAXCERTPH Website
To begin the process of obtaining your VAXCERTPH, you must first register on the official VAXCERTPH website. Visit the website using a web browser on your computer or smartphone.
Provide Personal Information
During the registration process, you will be required to provide personal information such as your full name, date of birth, address, contact number, and email address. Ensure that the information you provide is accurate and up-to-date.
Verify Your Identity
After providing your personal information, you may need to verify your identity through a one-time verification process. This may involve providing additional identification documents, such as a government-issued ID or your vaccination card.
Link Your Vaccination Record
To receive your VAXCERTPH, you must link your vaccination record to your VAXCERTPH account. This can be done by providing details about your vaccination, including the vaccine brand, date of vaccination, and the vaccination site. Make sure to have your vaccination card or other official documentation with this information readily available.
Wait for Validation
Once you have linked your vaccination record, your application will undergo a validation process by the DOH. This step ensures that the information provided is accurate and that you meet the eligibility criteria for receiving the VAXCERTPH.
Download Your VAXCERTPH
After successful validation, you will be notified that your VAXCERTPH is ready for download. Access your VAXCERTPH through your account on the VAXCERTPH website. The certificate will be available in a downloadable digital format, such as a PDF file.
Print Your VAXCERTPH
To have a physical copy of your VAXCERTPH, print the downloaded certificate using a printer. It is advisable to print multiple copies for backup purposes.
Save a Digital Copy
In addition to having a printed copy, save a digital copy of your VAXCERTPH on your computer or smartphone. This ensures that you can access it easily whenever required, even if the physical certificate is lost or damaged.
Use Your VAXCERTPH Responsibly
Now that you have your VAXCERTPH, it is essential to use it responsibly. Present your VAXCERTPH when necessary, such as when traveling, attending events, or accessing specific establishments that require proof of vaccination.
Keep Updated
As vaccination guidelines and requirements may change over time, it is crucial to keep yourself updated with the latest information from official sources. Check the VAXCERTPH website and relevant government portals regularly to stay informed about any updates or changes in the VAXCERTPH system.
Conclusion
Obtaining a VAXCERTPH is a crucial step towards normalcy in the post-pandemic world. By following the step-by-step guide outlined in this article, you can easily obtain your VAXCERTPH online. Remember to provide accurate information, link your vaccination record, and use your certificate responsibly. With your VAXCERTPH, you can participate in various activities and contribute to the efforts in overcoming the COVID-19 pandemic. Stay informed, stay safe, and stay vaccinated.